Do You Have:
Spinal Stenosis?
Bulging or Herniated Discs?
Disease of the Facet Joints in the Spine?
Complex Regional Pain Syndrome (CRPS) or Reflex Sympathetic Dystrophy (RSD)?
Nerve Damage Causing Chronic Pain?
Muscular Pain?
Other Painful Problems?
Narcotics not working?
Call Now for Treatment by Board Certified Interventional Pain Management Specialist!
954-580-8838
Interventional Pain Management may be your solution!
What is Interventional Pain Management?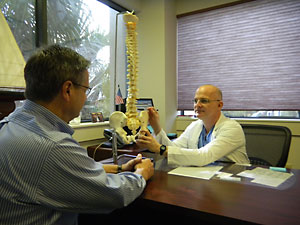 Many therapies for pain control only cover up the real problem. With Interventional Pain Management, a pain doctor treats your problem at the source. Many times an inflammatory process in or near a nerve is the true cause of pain. By identifying the location of the problem with X-rays, CAT scans and MRI modalities, a pain doctor can place pain-relieving solutions at the site of injury and inflammation. Once the inflammation is resolved, much of the pain is then relieved. This therapy is useful in the treatment of many painful conditions such as sacroiliac joint problems, neck pain, back pain, sciatica, neuropathies, reflex sympathetic dystrophy, spinal stenosis, muscular/myofascial pain, post-herpetic neuralgia(shingles) and several other painful conditions. The treatments may include sacroiliac joint injections, epidural steroid injections, facet blocks, medial branch blocks, lumbar sympathetic blocks, stellate ganglion blocks, trigger point injections or other peripheral nerve blocks.
---
Jonathan Aarons MD
Board Certified in Anesthesiology and Pain Management
2825 N State Road 7
Suite 203
Margate, FL  33063
Telephone: 954-580-8838
Fax: 954-771-3629
We are open Monday to Friday from 8 AM to 3 PM
Dr. Aarons office is located in Coral Springs, Florida and is convenient
to Fort Lauderdale, Margate, Tamarac, Parkland, Pompano, Lauderhill,
Plantation, Boca Raton and anywhere in South Florida.
Dr. Aarons treats patients from Broward County, Florida,
Palm Beach County, Florida and Miami-Dade County, Florida
Dr Aarons is a member in good standing with: