Spondylolisthesis is a slipping of one of the vertebral bodies of your spine on top of another one.  Sometimes this can be asymptomatic.  It can also be a source of back pain.  Pain from spondylolisthesis rarely occurs before the age of 40.  Disc degeneration and weakening of the joints and ligaments of the spine can allow the vertebral bodies to move.  This movement can narrow the spinal canal causing spinal stenosis as well.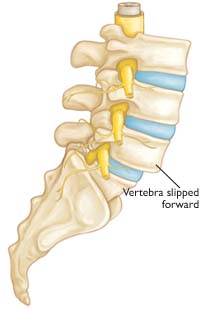 Occasionally, there can be a fracture in one of the bones of the spine call the "pars".  This fracture can allow the vertebral bodies to slip forward as well.
Patients with sponylolisthesis can have back pain.  The pain can radiate down the legs and be associated with numbness and tinging of the leg.  In severe cases, the patient may develop cauda equina sydrome, which may cause bowel or bladder symptoms. X-rays, MRIs and CT scans of the spine can delineate the cause of pain.  Electromyography (EMG) and nerve conduction studies (NCV) may be useful to delineate the nerve roots affected.  Treatment begins with conservative modalities including physical therapy, heat, ice and medications such as non-steroidal anti-inflammatories.  Injections, such as epidural steroids, can be useful to decrease pain and allow physical therapy to be more successful.  If conservative modalities are unsuccessful, surgery may become necessary.